Working with glue substances can be frustrating. When you are not professional, typically, you may not love to work with the glues. Adhesive strips, in this case, make the process easy for you, especially in DIY projects. You may find many adhesive strip types for a wide range of applications. However, we will discuss them in the later sections of this article.
We are already familiar with different types of weatherstripping. Besides, we also discussed their unique properties, which make them appropriate for individual applications. "Weather Stripping For Doors – Ultimate Guide To Different Types Of Door Seal Strips" is a definitive guide that explains all the fundamentals of different seal strips.
We know weatherstripping is compulsory equipment for automobiles, ships, airplanes, refrigerators, air conditioning rooms, noise reducing applications. And adhesive strips are one of these sectors' most popular weather stripping types. The most common question we find from our customers is how to install weatherstripping correctly and efficiently. Therefore, we have created articles on installation guides in different sectors, such as installing seal strips on doors, automotive, or shipping containers.
However, adhesive strips or weatherstripping is this article's primary focus. We will describe their fundamental properties and applications. We will also discuss the importance of high-quality adhesives in ensuring extended stability. At the end of this article, we will bring some of the most popular adhesive strips (adhesive seal strips) for all sectors.
What Are Adhesive Strips? How Do They Work?
Adhesive strips are also famous as self-adhesive weather stripping or self-adhesive seal strips. These adhesive weather strippings come in a diverse range of materials. Almost all types of rubbers, plastics, or metal seal strips can come with a layer that contains specialized adhesive for attachment. As a result, adhesive strips are versatile for all kinds of applications. The most common materials used for adhesive strips are EPDM rubber, neoprene, silicone, foam, and plastics.
Why are adhesives better than traditional fasteners? Modern glues are more potent than conventional glues. As a result, it is extremely popular as an alternative to nails and screws. These adhesives make the sealing job for doors and windows easier and faster. It also ensures the durability of the joint. Installing adhesive doesn't require additional equipment or hand tools. As a result, working with adhesives is more convenient and easy.
Self-adhesive weather stripping is famous for its diverse applications. We know that the primary purpose of seal strips is to seal the gap between doors, windows, electric cabinets, tanks, containers, or enclosures. Besides, it also prevents contaminants from coming inside or going outside. In construction, you will see that every apartment, building, supermarket, or hospital requires different weatherstripping types. Moreover, the automotive, aerospace, marine, oil, and gas sectors are noteworthy examples of weatherstripping applications. However, self-adhesive seal strips are trendy for automotive, marine, and household construction applications.
Requirement of The Adhesives Used for Weatherstrips
Based on different applications, the adhesive for weatherstripping may vary. In this case, there is a minimum requirement of adhesives for weatherstripping that should be considered in various applications. The adhesives for shipping container sealing may not be the same as the adhesive for weather stripping used for door sweeps. In this case, the customer should know a few factors of choosing suitable adhesives for weatherstripping.
Features: There are specific requirements of features that you should consider first. Your adhesive must be flexible, waterproof, and have excellent resistance against vibrations. Weatherstripping comes in contact with all types of environmental conditions. It is also necessary to check other resistance properties, such as oils, solvents, detergents, and high-temperature capabilities.
Accessibility and sturdiness: You should also consider the accessibility of the chosen adhesives. In this case, what kind of material you are working with is vital to know. Some bonding agents may not suit your applications. Therefore it is wise to check back the compatibility of the glue. Moreover, the compressibility or strength of the adhesive is also essential to consider. High-duty equipment may require the highest quality adhesives. Checking the sturdiness of the seal strip adhesive is also crucial.
Durability: Finally, the adhesive must ensure a fixed durability period. It can be ten years or 20 years. If the weather stripping sealant is high-quality, it can usually give you 30-40 years of durability.
These three parameters are the primary consideration for choosing the suitable adhesive for your application. However, there are other factors you should consider, too, such as Brand, customer feedback, budget, product description, etc. It is important to note that these parameters determine the required quality of the seal strip adhesives. Therefore, it is crucial to understand these factors.
Popular Self Adhesive Weather Stripping
This section will present some popular self adhesive rubber strips you can choose for your project. Each of these weather stripping adhesives is unique in its applications. These seal strips can withstand a temperature range between -40 °C – +60 °C. Moreover, the tensile strength is followed by 10MPa. However, we have discussed their properties and individual applications below.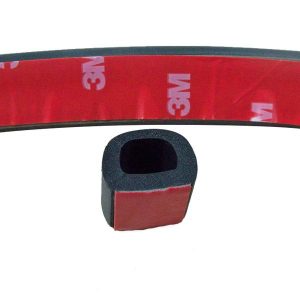 The primary materials used in this type of adhesive strips are sponge and foam EPDM rubber, neoprene, and nitrile rubber. High-quality BT (3M) adhesive tape attached to the flat surface of the adhesive ensures high strength.
Popular Applications:
D shape 3M profiles are popular for drowning out noise and eliminating vibration. These adhesive strips are prevalent in automotive, marine, and construction applications.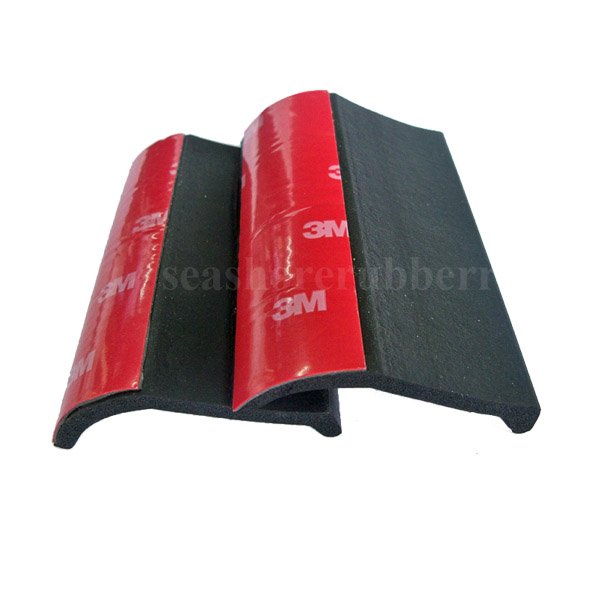 Profile for bumpers can come in different shapes, such as E, T, P, or D profiles. The high-quality EPDM rubber ensures durability and flexibility. It provides your vehicle with air-tight and dust-proof capabilities. As a result, your car interior stays clean and quiet.
Popular Applications:
These types of adhesive strips are specially designed for automotive vehicle bumpers. Since the size of this seal strip is universal, it fits most cars, trucks, and SUVs.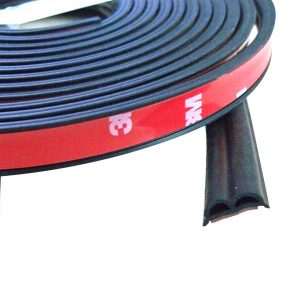 The primary material for this type of seal strip is EPDM foam. These adhesive strips undergo high or medium-density foam rubber extrusion in this case. EPDM adhesive strips provide better performance and offer high-strength capabilities.
Popular Applications:
These adhesive strips are commonly applied to seal the car's rear and front doors. Other shapes are also available in the factory based on different types of vehicles.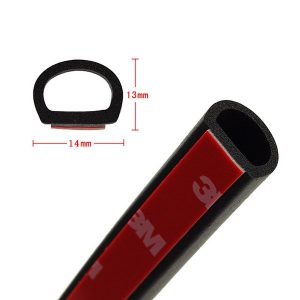 This D shape adhesive weatherstrip is similar to the first model. However, this seal strip has a comparatively big D shape hole inside. The flat surface of the profile usually includes adhesive tape.
Popular Applications:
D shape self-adhesive weatherstripping is prevalent in sealing automotive doors to prevent noise, water, and insects in the car. Besides, it also saves energy.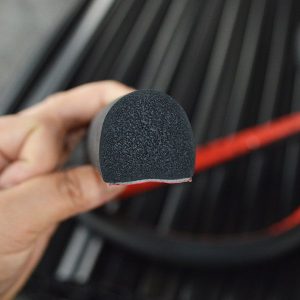 These adhesive strips are among the most popular seal strips in many applications. However, half-round sponge adhesive rubber strips are manufactured using microwave vulcanized techniques. It provides excellent elasticity and anti-compression capabilities. Moreover, it comes in many sizes depending on its specific applications.
Popular Applications:
In sealing to keep out dust, water, or air, half-round solid D shape adhesive strips are frequently used in places like automotive doors, bonnets, boots, trunks, streetlight housings, heavy-duty steel doors and windows, and the aviation and electrical industries.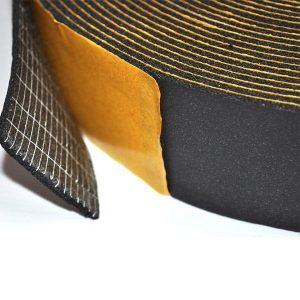 These adhesive strips are usually manufactured from EPDM rubber or foam seal face. Due to the high quality of rubber materials, these seal strips ensure high compressibility, strength, and flexibility.
Popular Applications:
These adhesive strips are prevalent in sealing sliding windows, sliding doors, security doors, closet doors, etc., to reduce damage to your doors and windows.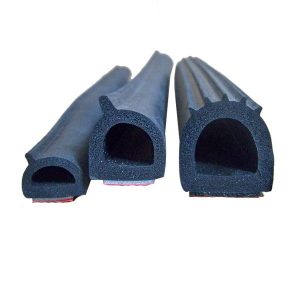 This self-adhesive rubber strip comes from EPDM sponge rubber in various shapes, such as D, E, P, or I. These seal strips can withstand high compressibility. Depending on your application, you can customize the size and shape of these adhesive strips.
Popular Applications:
These seal strips are prevalent in sealing housing or car doors.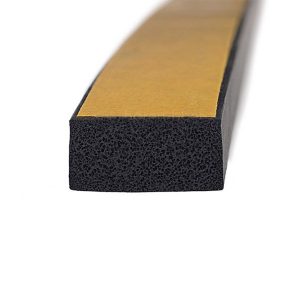 This sponge rubber strip has a separate tape attached to the back, while the self-adhesive rubber strip comprises ordinary EPDM material. It provides excellent weather, aging, ozone, and acid and alkali resistance properties.
Popular Applications:
These seal strips offer a wide range of applications. It is ideal for sealing doors and window frames. In addition, it is also prevalent in refrigeration and air conditioning rooms.
Expert Advice
Adhesive strips or self-adhesive weatherstripping is an excellent sealing material. The application range of this seal strip is huge. But why self-adhesive weatherstripping? Because it provides the following benefits.
Easy Installation: Adhesive strips are the fastest and easiest to install. All you need to do is to measure the application area properly. The adhesives used in these seal strips are high-quality and work instantly.
Save Costs: Since self-adhesive seal strips already come with high-quality prebuilt adhesives, you don't need additional tools or materials for the project. It leads to a cost-effective solution.
Extremely Durable: Adhesive strips are extremely durable due to their high-quality material composition and adhesives.
Versatile to all types of materials: Self-adhesive weatherstripping can attach to all major types of materials, including wood, metal, plastics, etc.
Therefore, it is wise to go for self-adhesive weatherstripping, especially for DIY projects. Installing these seal strips is easy and quick. However, if you have any questions, feel free to contact us. We have seal strip experts waiting to give you a quick suggestion.