There are a lot of rubber products available in the world. As one of the most popular rubber materials, EPDM rubber contributes a lot to many industrial and construction applications. EPDM rubber seal earned its place thanks to its excellent physical and mechanical properties, which are suitable for various applications.
In this article, we will discuss the facts that make EPDM rubber in great demand by many manufacturers and suppliers. We also highlight the fundamentals of this material, including its properties, advantages over business use as well as some of the most common applications. Read on to know more information in the following sections, and we hope this article will help you understand EPDM better than before.
What Does EPDM Stand For?
EPDM stands for Ethylene Propylene Diene Monometer. It is a synthetic rubber made of three materials, ethylene, propylene, and diene monometer. Ethylene propylene diene monomer (EPDM) is a copolymer of these three materials. However, the composition contains a small amount of non-conjugated diene monomer, and 3 to 9% of the overall chemical composition provides a cross-linking site for vulcanization. Besides, the ethylene content in the chemical composition is between 45% to 75%. It contains more filler-loading possibilities.

Typically, the diene is either 1,4-hexadiene, ethylidene norbornene, or dicyclopentadiene. These terpolymers can be vulcanized using conventional methods. Depending on the grade and formulation, EPDM seals can withstand temperatures as low as -50℃ and as high as 150℃. Let's elaborate on the properties below.
What is EPDM Rubber?
Typically, EPDM is a versatile synthetic rubber mostly popular for sealing and insulation. EPDM rubber must have specific properties that meet different product requirements. The EPDM rubber seal is famous in construction, HVAC, or manufacturing applications. In the later sections, we will discuss more EPDM seal applications.
Rubbers with a polymer composition are undoubtedly ideal for heat, light, and ozone resistance. In this case, the best examples are neoprene or polychloroprene, SBR, and natural rubber. EPDM seals are also resistant to temperature extremes ranging from -50ᵒC to 150ᵒC based on the type of grade and formulation. This temperature resistance property depends on the type of grade and formulation.EPDM seals can withstand loads ranging from 500 to 2500 PSI or 4Mpa to 25Mpa, resulting in high tensile stress.
EPDM seals can withstand loads ranging from 500 to 2500 PSI or 4Mpa to 25Mpa, resulting in high tensile stress. Additionally, this substance can adapt to polar liquids like hydraulic fluids, ketones, hot and chilly water, and alkalis. What is more, EPDM rubber is an electrical insulator. So, it is perfect for manufacturing electrical equipment and performing electrical services. In the following, we have summarized the mechanical and thermal properties of EPDM rubbers. This table will help you understand the fundamentals of this material.
Table 1: Mechanical and Thermal Properties of EPDM Rubber
| | |
| --- | --- |
| Hardness | 30 – 90 |
| Tensile stress | 4Mpa to 25Mpa (500 to 2500 PSI) |
| Elongation after fracture in % | ≥ 300% |
| Density | 0.90 to ≥ 2.00 g/cm³ |
| Thermal Expansion coefficient | 160 µm/(m.K) |
| Service temperature (Max) | 150ᵒC |
| Service temperature (Min) | -50ᵒC |
| Glass transition temperature | -54ᵒC |
What Are The Benefits of EPDM Rubber?
EPDM provides various beneficial properties. That makes EPDM a quality material for applications requiring durability and miscellaneous resistance. In the following, we have stated the most common benefits of this material.
Weather Resistance
EPDM rubber is typically famous for its excellent weather resistance property. EPDM rubber seals are also called weatherstripping. The favorite application of this material is on the window, doors, or even large ship containers as seal strips. EPDM rubber promises excellent durability in any outdoor situation. Some weather-resistant mediums include outdoor aging, ozone, sunshine, moisture, pollutants, etc.
Durability
Other than the weather resistance, EPDM seals and gaskets can also tolerate extreme circumstances such as high heat. EPDM rubber gaskets provide excellent abrasion and tear resistance for various machine components. The stability and durability of this material are outstanding. Some rubber seal strips and gaskets have a lifespan of more than one hundred years based on ordinary uses. In comparison to other rubbers or plastics, EPDM rubbers are a better option. It enables any organization to spend less on changeable parts.
Heat-resistance
This kind of EPDM rubber is different from typical EPDM rubber. In fact, it can resist the weather. And it can withstand temperatures as high as 150ᵒC and low as -50ᵒC. As a result, machine components assembled with EPDM rubber can endure the specified range of temperatures. For temperature, other materials such as silicon can withstand higher temperatures. But EPDM seals are still the best option when both stability and heat are issues.
Acid Resistance
EPDM rubber is an exceptionally durable material, as we have mentioned already. It is even stable when reacting with corrosive substances. Drain hoses assembled with EPDM strips are more protective against extremely acidic situations. The common feature of the material is encountering intermittent resistance to caustic elements. Therefore, EPDM rubber is trendy for applications where durability over acid is a concern.
Harmless and Fewer Odors
EPDM rubber is a synthetic organic rubber substance with lower toxicity compared to other materials. This characteristic makes EPDM rubber a secure choice for situations where rubber contact is a concern. This material also does not generate any strong odor when formulated. Thanks to these qualities, the EPDM rubber is ideal for sealing panels, and windows as well as other applications that may contact the human body.
Electric Insulator
Is EPDM a good insulator? Yes, EPDM rubber is an excellent electric insulator. These materials are trendy in most electrical components. EPDM wire is the best example of those EPDM electrical products ideal for electrical insulation. It can also withstand high voltage without losing its properties while assisting with safety measures.
Manufacturing Flexibility
EPDM is one of the world's most versatile materials for production. Manufacturing EPDM rubber is not challenging to obtain all the advantages above. As a result, various manufacturing procedures are widely popular in the production of EPDM. The most common processes include custom molding, extruding, sheets, and die cutting. Multiple densities of EPDM rubber are also widely popular. Including spongy products and different-sized and shaped tubes that can be bent and folded.
EPDM Rubber Applications
We have already mentioned that EPDM rubber is one of the most popular rubber polymers used in various applications. We have also highlighted that EPDM seals can withstand high loads and unfavorable temperatures. These properties make this material suitable for many outdoor applications. Next, we will talk about the most common industries where EPDM rubber is employed.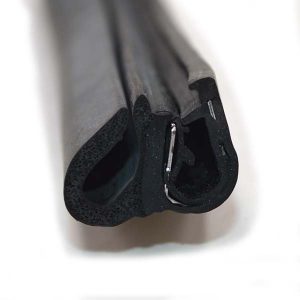 HVAC Applications (Heating, Ventilation, and Air Conditioning)
EPDM is the most popular material for HVAC applications, i.e., heating, Ventilation, and Air Conditioning. Why is this material so prevalent in these industries? EPDM has excellent heat, temperature, light, weather resisting capabilities. In household uses, all houses and apartments require high-quality EPDM seal strips for air conditioning. In industrial uses, EPDM has great demand for various HVAC applications of different temperatures. On the other hand, EPDM seals are famous in vibration-damping applications. It is primarily for fans and motors that would otherwise be noisy. Besides, drain tubes and compressor grommets are also two popular applications of EPDM strips and gaskets.
Automotive
EPDM also enjoys an increasing demand in the automotive industry. EPDM sealing strip provides heat, temperature, moisture resisting, and noise reduction properties. All these properties are crucial concerns in every automotive sector. In addition to being waterproof and UV-resistant, EPDM also forms quick bonds with metals. Because of this property, EPDM has a vast scope in the automotive industry. Such as for weatherstripping and vibration-damping applications. Thanks to this unique property, EPDM has a wider application in the automotive industry, especially when weatherproofing and vibration damping becomes concerns.
Industrial Seals and Gaskets
Machine parts with EPDM rubber gaskets guarantee long-lasting stability. It has excellent resistance to different environmental properties such as moisture, UV light, and ozone. So, most industries choose this material for seals and gaskets destined for various machinery. These seal strips and rubber gaskets can ensure elasticity for continuous heating and cooling. EPDM seals have excellent performance in resisting to chemicals, such as detergents, diluted acids, NaOH solutions, etc.
Construction
Roofing is a primary application in all construction sites. EPDM is also popular in these sectors. Because it can provide excellent insulating and weatherproofing features. Besides, EPDM rubber is used as a sealant for expansion joints, tank liners, etc.
Is EPDM Flammable?
Some EPDM rubber is specially designed for fire protection. According to BS EN 45545-2:2013 + A1:2015 and EN ISO 9239-1, EPDM is a flame-retardant halogen-free synthetic elastomer. The most common fire protection applications of EPDM are railway, floor coverings, and other finished products. EPDM gives off low smoke emissions and helps to minimize flame spreading.
Summary
EPDM, or Ethylene Propylene Diene Monometer, is a synthetic rubber material. It has excellent features in heat, temperature, moisture, light, and sound resistance. Due to these material properties, EPDM has become the most demanding material in every manufacturing sector. Such as automotive, HVAC, or construction.
Seashore Rubber Company produces high-quality EPDM seal strips suitable for all these applications. Besides, this company has been manufacturing these products for decades. Their products are also popular in all the countries in the world. Feel free to contact us if you are interested in EPDM products. We have a talented team of customer consultancy. Any type of query is welcome to our desk.