A seal strip is a necessary part of many applications found on different occasions in our daily life. Starting from our living place, vehicles, office, and industries, all area needs this seal strip. Sea Shore Rubber plays a significant role in sincerely manufacturing these essential parts.
Keeping that importance in mind, making useful content for our customers is necessary. However, this article will describe the fundamentals of seal strips. In addition, it will introduce the popular seal strip products from Sea Shore Rubber.
What is Rubber Seal Strip? How does it work?
A seal strip is a protecting part made of synthetic rubber typically used to protect against the leakage of liquid and gas. The best example of a seal strip is weather stripping seals. Normally, these seal strips are very popular for living places for weather protection. Moreover, it helps the air conditioner to save energy.
On the other hand, you may also find another use of seal strips between chemicals and metals as a barrier. The best example of a metal barrier would be Sea Shore Seal strips for marine/boat/containers. These seal strips are greatly helpful as a water barrier.
A rubber seal strip closes the gap between a machine's steady and moving parts. And most importantly, it protects the device from all environmental elements, such as temperature and humidity.
Importance of Rubber Seal Strips and why should you use a seal strip
Rubber seal strips come in various applications due to their many variations. Both people and machinery are benefited from these varieties of seal strips. Let's introduce some of them.
Protects Harsh weather: Rubber seals can withstand excessive heat and high UV and ozone levels. Therefore, Rubber seal strips play an important role in protecting the sensitive parts of machinery and the crew in a vehicle. On the other hand, the door bottom seal, window rubber seal, and car window seal protect us from extreme hot and cold weather.
Save machine parts and equipment: The main reason for using seal strips in vehicles and large machinery is to protect the device parts and equipment from vibration, collision, friction, and fire. The best examples are sea shore rubber's "steel compound EPDM Sealing Strips for automotive," "EPDM Sealing Strip For Automotive Windshield," "Heat Resistant Extruded Rubber Sealing Strip for automotive parts," etc.
Helps in long-lasting: As rubber seal strips protect the machines and equipment from harsh environments, collision, vibration, and friction, they are undoubtedly maintaining the durability of the equipment.
These are the most common benefit we may get from seal strips. Besides this, seal strips protect the boat as a water barrier; seal strips also work as fire-resistant for rail vehicles. Therefore, the importance of seal strips is huge. And Sea Shore rubber is one of the best rubber seal manufacturers in the world rubber seals market.
Application of Sea Shore Rubber Seal Strips
Rubber seal strips are an integral part of all machinery. Therefore, the application of rubber seals is huge. However, Sea Shore Rubber keeps a great collection of seal strips for various Applications. We have categorized our seal strips into five types based on the application fields.
Building window rubber seals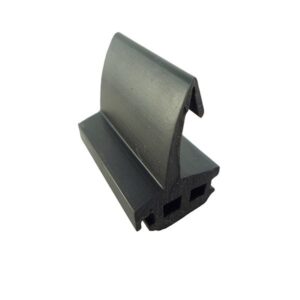 A window rubber seal strip fitted to the window frame prevents the entrance of draughts and water. These rubber seals also prevent airflow from outside to inside. The air conditioner does not need to turn on frequently over time. Ultimately it saves the cost.
In recent years, most buildings have needed window rubber seals. Modern technology lets people know how to control the weather's effect on our living place. As a result, it is important to install window rubber seals in our living area.
Sea Shore Rubber offers a great collection of various window rubber seals. Most of these rubber seals are made of EPDM rubber (65SHA). These rubber seals are excellent UV, ozone, and water resistant. The best examples are aluminium window rubber seal strip, glass window rubber seal strip, P strip window seal, wooden window seal strip, DPE rubber seals for windows and doors, etc.
Seal strip for rail vehicle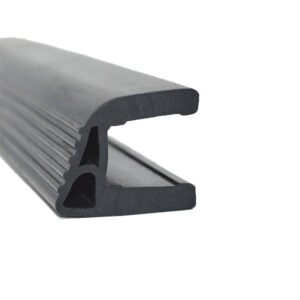 Rubber Sealing strips can affect human health in mass transit areas. Thus, the rail industries prefer rubber seals to meet toxicity, smoke, and fire standards. Rail vehicle doors and windows have rubber seals installed around the corner. It is because, when the rail moves, the high velocity of airflow, water, and dust particles can't enter inside.
On the other hand, these rubber seal strip keeps the rail vehicle's inside temperature constant. As a result, seal strips help carriages clean and dry for passengers. Rubber seal strips are also useful between rail vehicle parts and equipment.
Sea Shore Rubber offers three types of rubber seals specially designed for rail vehicles. These fire-resistant Rail vehicle rubber seal strips, Rubber extrusion for rail vehicle rubber strips, EPDM rubber strips, and rail vehicle rubber parts weather-resistant rubber seal.
Sea Shore Rubber sealing strips for rail vehicles can be used on rail vehicles' bottoms, bearings, and conditioners. On the other hand, the rubber seal for the window can also be used for rail vehicles' doors and windows.
Automotive seal strips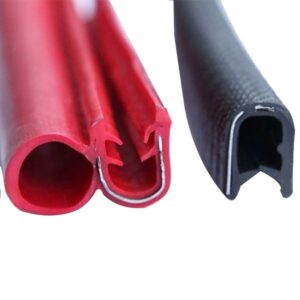 The automotive industry depends on creating critical systems with complex parts and components, supporting the structure to build a complete automobile. In this case, this entire structure must withstand the vehicle's motion, friction, and vibration.
Automobile seal strips help a vehicle withstand those obstacles. As a result, the parts and components get long-lasting. EPDM seal strips, automobile heavy truck rubber seal, and automotive rubber extrusion profiles installed on doors and windows protect against all types of harsh weather.
Sea Shore Rubber offers many rubber sealing strip types for automotive vehicles. Cabinet door seal strips for windows, universal windscreen windshield rubber seal strips for automotive, heat-resistant extruded rubber sealing strips, and adhesive EPDM car rubber seal strips are the most common.
Sea Shore rubber ensures their rubber seal strips are fire and rear resistant, flexible and durable. They guarantee that their seals can withstand high-speed, extreme temperatures, and high air pressures.
Seal strip for marine/boat/container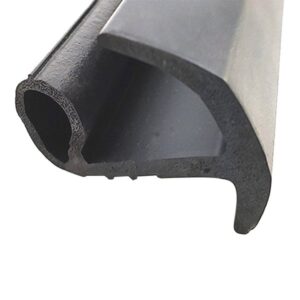 Similar to Rail industries, it is a concern to marine industries to keep crews safe and healthy. The rubber sealing strip is one of the most versatile sealing materials that are perfectly resistant to strain, steam, chemicals, and oils.
Boats and ships are always exposed to harsh environments, seawater, and UV rays. Even the containers on large ships are also open to the harsh climate. Rubber seal strips help these boats, large ships, and containers seal properly, so the inside materials are safe.
Sea Shore Rubber offers a good collection of Rubber seal strips for marine/boat/containers. The best examples are windshield rubber seal strips for boats, rubber seal strips for containers, J shape door EPDM seal strips for containers, etc.
Cabinet door seal strips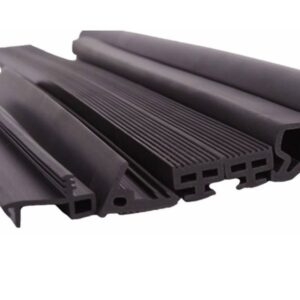 Like the window, cabinet doors are the common place where rubber seal strips are needed. The rubber seal strips also protect the inside of the house from insects and harsh environments.
Sea Shore rubber offers seal strips of different materials, such as EPDM cabinet door rubber, foam, or PVC with metal infill sealing strips. Cabinet door seal strips for the shower, Customized dustproof adhesive Rubber, Sealing strips for cabinet door seals, and EPDM strips for cabinet doors are the best example of cabinet door seal strips.
These are the most common types that sea shore rubber can offer. Besides this, other seal strips are available in the sea shore rubber collection. However, we have attached the product link with the above examples. You can directly check the products by clicking on the link attached to every type.
Why Choose Sea Shore Seal Strips
Seal Strips play a great role in safety, machine stability, and durability. Therefore, choosing the best seal strips for your house and machines is important. Why you should prefer Sea Shore seal strips is an important question. Let's find the answer below.
20+ years of Experience: Qingdao Sea Shore Industrial Co., Ltd has more than 20 years of experience in materials and processing technology. Rubbers are one of the common materials used in this industry. However, sea shore rubber prepared the best team to manufacture the seal strips.
High-Quality Seal Strips: Sea Shore seal strips are certified by ISO 9001, ISO TS16949, UL94-VO / SGS, and RoHS/SGS. Undoubtedly, Seashore Industrial Co., Ltd never compromises the quality of its seal strips.
Great collection of products: More than hundreds of types of seal strips are available in the SeaShore Rubber collection. You can get the best from this collection.
Fast and reliable customer services: SeaShore Rubber experts are always ready to answer your quotations. We have fast and reliable customer service practices. Feel free to contact us at any time.
Summary
Rubber Seal Strips are an integral part of machinery and cabinets. It protects the machine and cabinets from the harsh external environment, rains, draughts, high-pressure air, dust, etc. It also gives durability to the machine's parts and components, protecting against the motion, friction, and vibrations.
Seashore Rubber offers a vast collection of rubber seal strips. Rubber seal strips for windows and doors, seal strips for rail and automotive vehicles, and seal strips for boats, ships, and containers are noteworthy examples.
However, Sea shore rubber never compromises the quality of its product. We have 20+ years of manufacturing experience, so our ultimate goal is good quality of the products and customer satisfaction. Our customers are always welcome to ask questions, and we are happy to answer those.